First lady Jill Biden surprised National Guard members at the U.S. Capitol on Friday and delivered cookies, a gesture of kindness "for keeping me and my family safe" during President Biden's inauguration earlier this week.
"I just want to say thank you from President Biden and the whole, the entire Biden family," she told a group of Guard members in her first public appearance since assuming her new position.
"The White House baked you some chocolate chip cookies," she said, before joking that she couldn't say she had baked them herself.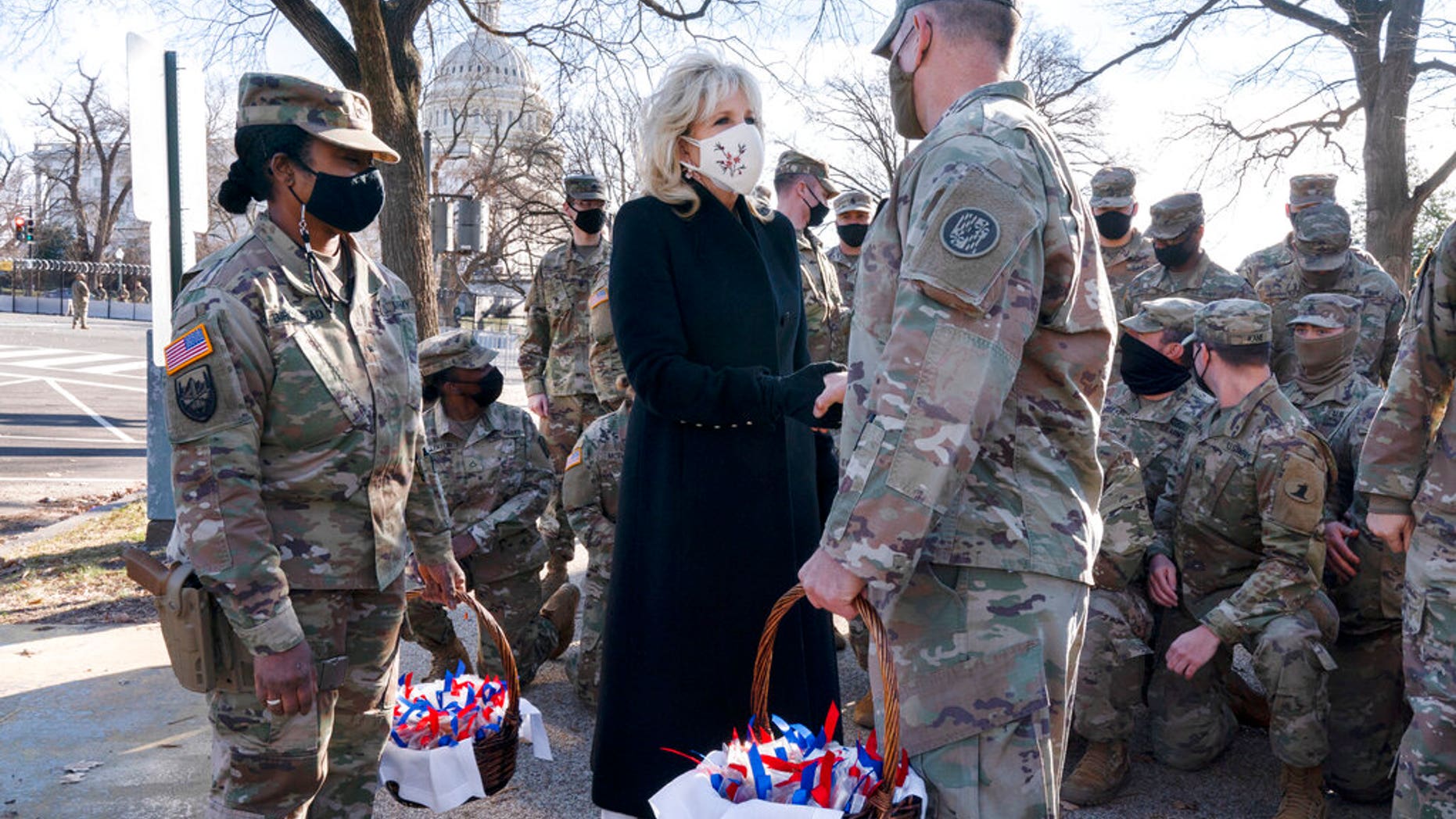 Nearly 25,000 troops descended on Washington, D.C., in the days leading up to the inauguration, as officials remained on heightened alert for rouge actors looking to stir up violence. The ultra-defensive posture came after rioters stormed the Capitol building earlier this month in protest of Biden's presidential victory.
Jill Biden's visit with the National Guard was particularly sentimental to her as she reminisced about her late step-son Beau Biden, a former Delaware Army National Guard member who spent a year deployed to Iraq. He later died in 2015 at the age of 46 after being diagnosed with glioblastoma, a rare form of brain cancer.
"So I'm a National Guard mom," she told the crowd, adding that the baskets were a "small thank you" for leaving their home states and coming to the nation's capital. President Biden offered his thanks to the chief of the National Guard Bureau in a phone call Friday.
"I truly appreciate all that you do," the first lady added. "The National Guard will always hold a special place in the heart of all the Bidens."
READERS REACTION
"I'm sure this has nothing to do with the national outrage at the way our troops were treated"
"The National Guard was there to keep EVERYONE safe,not just the Slow Joe family. Not surprising Jill only thought of herself and her family only."
"She made sure all the troops in the garages got cookies……….concrete is so comfortable…….."
""I'm going to put ALL of your lives in danger by destabilizing the middle east, giving Iran more nuclear capability and opening the borders wide open. Enjoy the cookies!""
"Uncle Trotsky had Maybe 2,000 Attendees at his Inauguration and about 25,000 Military Just Like They Do in Lawless Banana Republics. It was never about COVID or civil unrest. Truth is, Biden simply could not generate an inauguration crowd and the optics would have been devastating."
"Let them have cake – cookies is a slap in the face considering the way these National Guard soldiers are being treated. A cookie is an insult considering what these National Guardsmen are giving up." 
""to keep her family safe?" is that the only priority? what about AMERICANS? … oops, never mind, AMERICANS are to be "cleansed" so we don't matter hoped biden was going to be a centralist, but he has proved that he's a radical left communist … hope all the liberal vegan meatballs that wanted free stuff get exactly what they voted for – free stuff that is worth nothing"