Xenophobia: Another country joins race to boycott South Africa. Madagascar has joined Zambia in calling off a football match against South Africa in the wake of xenophobic attacks in Johannesburg and Pretoria.
On Wednesday, the Football Association of Zambia (FAZ) pulled out of hosting South Africa's "Bafana Bafana" in Lusaka Saturday, citing "prevailing security concerns."
The South African Football Association (SAFA) turned to Madagascar for a hastily arranged friendly in Orlando on the eastern edge of Johannesburg.
But the Bafana Bafana Twitter page said Thursday the game would no longer take place.
"SAFA regrets to inform the public that the match between Bafana Bafana and Madagascar scheduled for this coming Saturday (7 September) has been called off after the visitors (Madagascar) decided to withdraw from the encounter," the statement read.
Want to Sell Or Buy in Ghana? Visit Pepapa.com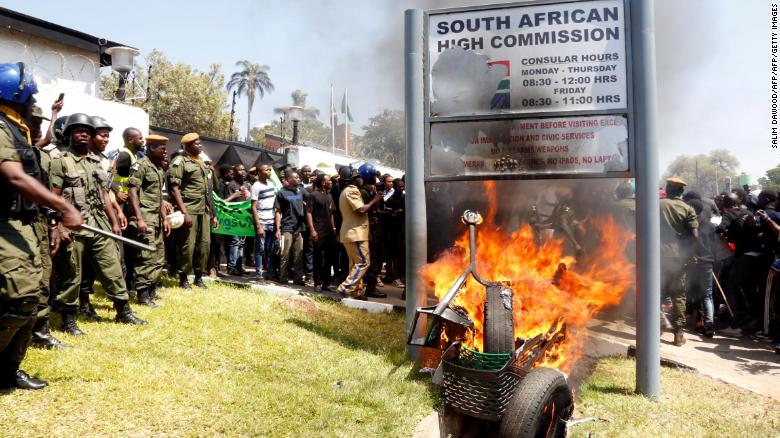 Zambia's university students burn the sign outside the South African Embassy in Lusaka.
'Upsetting'
Speaking to CNN Sport, SAFA spokesperson Dominic Chimhavi said the players and staff were "shocked" by the news and were "still figuring out what to do next."
"Apparently [Madagascar] were on their way to the airport when they received a call from the government telling them that they were not allowed to board the plane for South Africa," Chimhavi said. "Naturally this is upsetting for all involved."
Read also: "IF NIGERIA WAS GOOD, WHAT WOULD CITIZENS GO IN SEARCH FOR IN SOUTH AFRICA' – DAVIDO FUMES
Chimhavi suggested recent events in South Africa must have played a part in Madagascar's decision.
"I think we both can guess why they've done this," he said. ""It is pretty obvious what is happening in South Africa.""
In a statement on its Facebook page, the Malagasy Federation of Football said it was "honored" to be considered to play South Africa but after consultation with various agencies in the country it was deemed "wise" to decline the invitation on security grounds. Xenophobia: Another country joins race to boycott South Africa.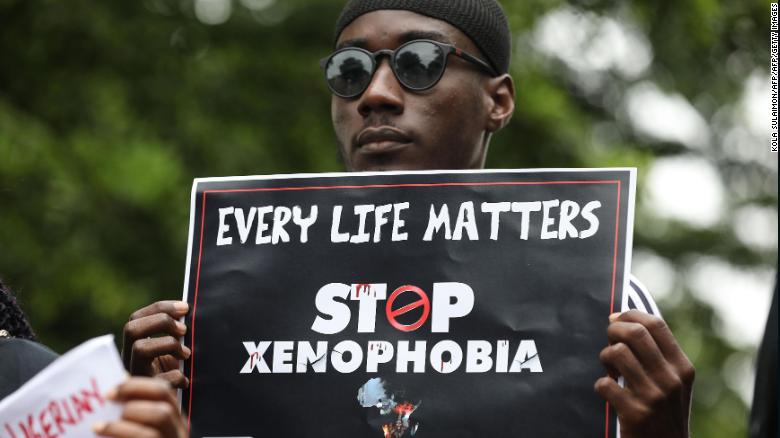 A demonstrator holds a sign during a protest against xenophobia outside of the main gate of the South African High Commission in Abuja, Nigeria.
'Proud to represent Africa'
Violence erupted in the South African capital Pretoria last week following the shooting of a local taxi driver, allegedly by a foreign drug dealer.
This incident proved to be the spark in an already volatile environment. Anti-foreign sentiments from politicians and public officials have fostered ill feelings between South Africans and African migrants competing for meager opportunities in the most unequal country on the planet.
On Monday, a pamphlet attributed to a group called the Sisionke Peoples Forum circulate circulated on social media and accused foreigners living in South Africa of stealing jobs and selling drugs.
"We condemn what is happening," Chimhavi said. ""We are proud to represent Africa on the pitch and to play against our African brothers in continental tournaments. We call for an end to the violence and destruction."
At least 189 people have been arrested in connection to looting and assault while five people have reportedly been killed.
Read also: Manasseh Azure's Letter to South Africans Amid Xenophobic Attacks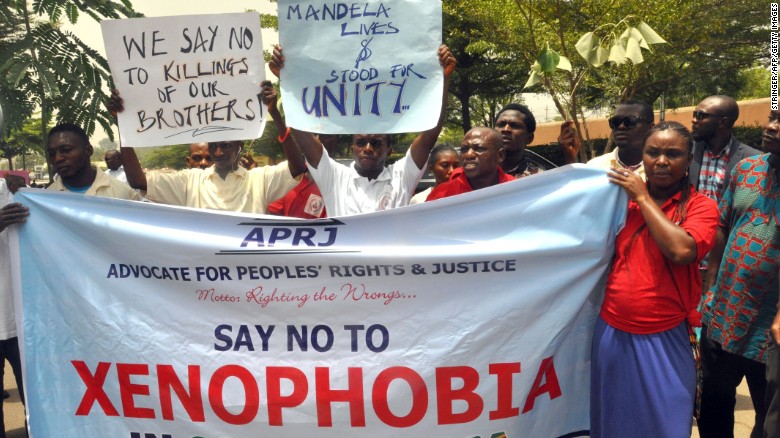 Demonstrators hold banners during a rally called by the NGO Advocate for Peoples' Rights and Justice in front of the office of the South African television DSTV, on April 20, 2015 in Abuja to protest against anti-immigrant violence that erupted last week in South Africa in the economic capital Johannesburg and Durban. Xenophobia: Another country joins race to boycott South Africa.
Echoes of apartheid
There has been a backlash in other African countries with reports of violent incidents taking place in Zambia and Nigeria where South African owned businesses and shops have been ransacked.
South Africa has temporarily closed its diplomatic missions in Lagos and Abuja in Nigeria, fearing reprisal attacks against its citizens. It's really disturbed about the issue of Xenophobia: As another country joins race to boycott South Africa
These decisions by the Zambian and Madagascan football associations echo the international boycotts of South African athletes and teams during the apartheid era. Between 1960 and 1992, South Africa was barred from competing at the Olympic Games while the Springbok rugby, cricket and football teams were barred from World Cups and officially sanctioned international games.
With political and corporate leaders in Ghana, Kenya, Ethiopia other African nations slamming the South African government and its people for this unchecked xenophobia, there may be more teams declining to play ball with their neighbors.
Source: CNN
Want to Sell Or Buy in Ghana? Visit Pepapa.com