Political News: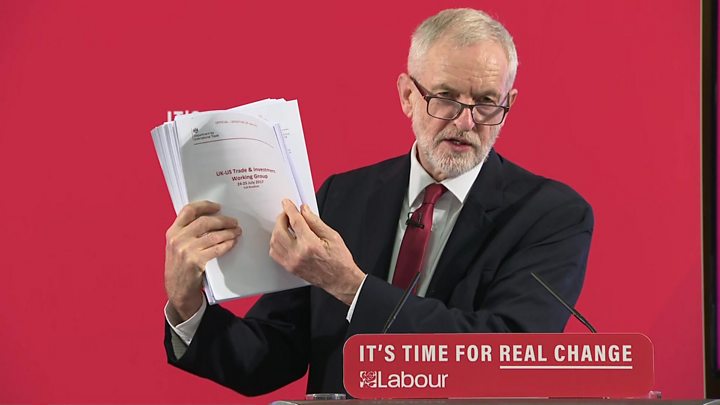 Labour says it has evidence the NHS would be at risk under a post-Brexit trade deal with the US.
At a press conference in London, Labour leader Jeremy Corbyn said he had a 451-page dossier showing initial talks had taken place on drug prices and the NHS.
He warned it showed the future of the health service was at risk.
But Prime Minister Boris Johnson said the claims were "total nonsense" and he could give a "cast-iron guarantee" the NHS would not be part of formal talks.
In the Conservative manifesto, published at the weekend, the party explicitly stated neither the price paid for drugs nor the services provided would be "on the table".
Political News: What evidence has Labour obtained?
Labour has been given uncensored government documents covering six rounds of negotiations – preparatory meetings ahead of formal trade talks – in Washington and London between July 2017 and July 2019.
These documents appear to provide more detail about the meetings Channel 4's Dispatches programme reported on earlier this year.
They show the US is interested in discussing drug pricing – mainly, extending patents that stop cheaper generic medicines being used.
The US currently pays two and a half times more for drugs than the NHS does.
One document quotes a UK official saying the talks are helpful in determining the areas the US may want to discuss, while acknowledging the UK would have objections.
As well as the pharmaceutical industry, the talks also covered other areas including agriculture and climate change.
Political News: Is this proof the NHS is up for sale?
This is going to be furiously disputed throughout the day.
Jeremy Corbyn doesn't provide evidence ministers have agreed the health service should be part of a trade deal with US.
But details of discussions about the demands of US pharmaceutical companies will still be motivating for Labour voters worried about the NHS.
"Not for sale," has been the biggest mantra at Labour event