Political News:
At least 40 anti-government protesters have been killed in Iraq over a 24-hour period, government officials told The Associated Press late Thursday, as violence in Baghdad and the south of the country threatened to spiral out of control.
Security and medical officials say five protesters were killed and 32 wounded late Thursday when security forces fired live rounds to repel them from setting fire to a mosque in the central city of Najaf. Protesters had torched the Iranian consulate in that city the previous night.
Another 35 protesters have been killed by security forces in separate demonstrations in Nasiriyah and Baghdad since Wednesday evening. In all, at least 350 people have died since protesters first took to the streets on Oct. 1 to protest government corruption.
The attack on the Najaf consulate one of the worst attacks targeting Iranian interests in the country since the anti-government protests erupted two months ago. The Iranian staff were not harmed and escaped out the back door. Abbas Mousavi, a spokesman for Tehran's foreign ministry, called for a "responsible, strong and effective" response to the incident from Iraq's government in statements to Iran's official IRNA news agency.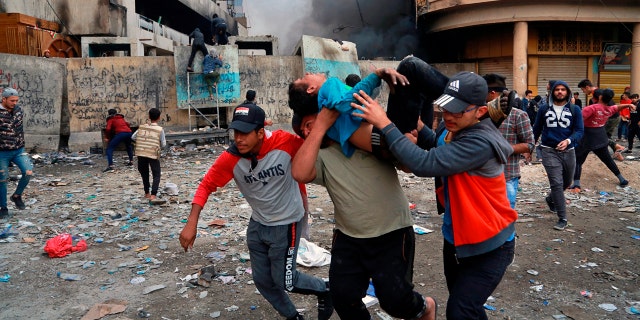 A wounded protester is carried to receive first aid during clashes in Baghdad Thursday. (AP Photo/Khalid Mohammed)
Iraq's Ministry of Foreign Affairs condemned the torching of the consulate, saying it was perpetrated by "people outside of the genuine protesters," in a statement, adding that the purpose had been to harm bilateral relations between the countries.
One demonstrator was killed and 35 wounded when police fired live ammunition to try to prevent them from entering the consulate building. Once inside, the demonstrators removed the Iranian flag and replaced it with an Iraqi one, according to a police official who spoke on condition of anonymity, in line with regulations.
A curfew was imposed in Najaf after the consulate was burned. Security forces were heavily deployed around main government buildings and religious institutions Thursday morning. The province is the headquarters of the country's Shiite religious authority headed by Grand Ayatollah Ali al-Sistani.
The largely leaderless protest movement has also decried Iran's growing influence in Iraqi state affairs as well as government corruption. Influential Shiite cleric Muqtada al-Sadr called on the government to resign "immediately to stop the bloodletting," while also imploring protesters to maintain the peacefulness of their movement and punish and abolish those behind the violence to protect the reputation of their movement.
"If the government does not resign, this will be the beginning of the end of Iraq," he warned. Al-Sadr, who has supported the protests, also categorically denied that his supporters were involved in the attack against the Iranian consulate in Najaf.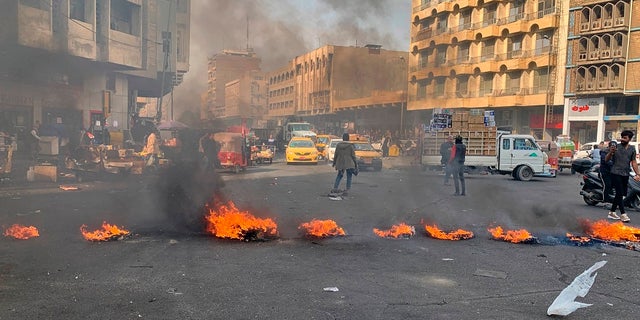 Anti-government protesters set fire to block streets during ongoing protests in Baghdad Wednesday. (AP Photo/Ali Abdul Hassan)
Protesters have staged sit-ins and closed roads, using burning tires to cut access to main thoroughfares and bridges with burning tires. Protesters hav