Senior Congress leader Ghulam Nabi Azad said on Saturday that all political leaders detained in Srinagar in the wake of abrogation of Article 370 must be released if J&K needed to progress.
"If J&K has to progress, then all political leaders under detention in Srinagar must be released," Ghulam Nabi Azad said in presence of National Conference (NC) leader Farooq Abdullah.
Moreover, he expressed his elation over the release of Farooq Abdullah from house arrest, stating that it was "a matter of great happiness for me."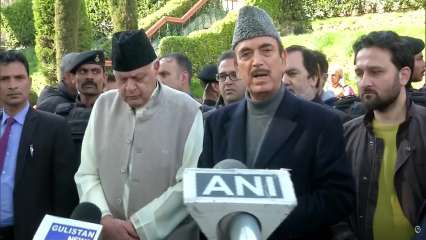 "It is a matter of great happiness for me. I met National Conference MP Farooq Abdullah after over seven months. He was detained for all these months. The reason for his detention is not yet known to me," he said.
He also highlighted that 'political process' must begin in the erstwhile state, stating that elections must be conducted in the union territory.
"The political process must begin in Jammu and Kashmir. Elections must be conducted in Jammu and Kashmir, following proper procedure," said Azad.
Read More:
After months of ban, J&K administration restores broadband service in Valley
The Leader of Opposition in the Rajya Sabha also stated that there was no work being done on any project or roads for three years which resulted in unemployment in the state.
He also highlighted the ills of the decision to abrogate Article 370. "Tourism, handicraft and other businesses like import and export have also been affected. Even in Jammu, transport, industries, small scale industries have been affected. The decision to declare the state of Jammu and Kashmir as a Union Territory is an insult to the people of Jammu and Kashmir. It must be revoked. Jammu and Kashmir should be declared a state again," Azad said.
This is the first time Azad held a press conference in presence of National Conference leader Farooq Abdullah after spending 7 months in detention.
The Jammu and Kashmir administration's order effectively released Farooq Abdullah from house arrest and it means that he can take part in parliament session from March 16 onwards. He was kept under house arrest since September 15, 2019, a month after the abrogation of article 370.
Abdullah's detention period was extended by another three months under the Public Safety act (PSA) in the month of December last year.
Six months after top leaders from Jammu and Kashmir were put under preventive custody, the Union Territory administration on February 5 slapped stringent Public Safety Act (PSA) on former chief ministers Mehbooba Mufti and Omar Abdullah and two other politicians from National Conference and PDP.
On August 5, the government had detained several mainstream leaders to avoid mass mobilisation against the decision that removed the special status of Jammu & Kashmir and divided it into two union territories.